Online & Paperless DOT Physical Exam Software
Still using paper DOT forms or antiquated software for DOT Physicals? Manually uploading every DOT Physical result to the NRCME? Losing revenue by not tracking and calling back drivers for renewals? Try MedFiller for free for processing and electronically submitting DOT medical exam results to the DOT.
MedFiller offers end-to-end paperless processing of DOT medical exams. From patients filling out their portion of the medical exam on their phone to the actual exam being conducted and then the results being automatically uploaded to the FMCSA/NRCME. The entire process is made seamless for drivers, front-desk staff and DOT certified examiners. MedFiller even integrates with popular EMRs and appointment booking systems. Watch our demo videos to take a peek into how MedFiller automates DOT exams or start your free trial today!
Save Time
Automatic submission + certificate creation eliminates the need for manual handling of physical exam results, saving significant time for both medical examiners and administrative staff. 
Easier & Faster Physicals
Harness the power of AI to reduce risk of human errors and deviations from DOT standards. Pass/Fail checklists and on screen DOT published guidelines to help with complex cases.
Total Case Management
Pull up past DOT physicals exams for patients giving a historical case overview. Keep track of up-coming renewals for increased revenue through return bookings. 
Features for DOT Examiners
Instant automatic electronic submission of exam results to the FMCSA/NRCME. No need to login to the DOT and submit results
Patients automatically emailed a copy of the results and certificate. No more printing/folding of certificates or "DOT medical cards"
Pass/Fail Warnings to help catch deviations from DOT medical standards
Form processing guidance and help for case specific medical concerns. Direct links to DOT guiding documents for easier decision making during complex cases
Integrate your own notes and checklists ("cheat sheets") for training new staff members. No more switching tabs and googling for procedures.
Features for Clinic Operators
Keep track of upcoming renewals. MedFiller reminds you of patients with expiring certificates so that you can schedule them for renewal. Your patients always remain your patients.
Better record keeping. 

Take control of paper flying around the clinic and forget scanning medical forms into your EMR. MedFiller integrates with booking systems and EMRs to save you time and money.
Employer and Third Party Portal: MedFiller is a full featured occupational medicine system and can capture HIPAA releases/waivers for reporting and sending results to employers. If you perform DOT exams for employers, your clients have access to the MedFiller employer portal where they can authorize new exams/pre-employment physicals and download documents. MedFiller also provides detailed end of period reporting to help manage your receivables. With support for capturing HIPAA releases/waivers MedFiller can automatically relay the result of exams to employers via fax or email while keeping you compliant.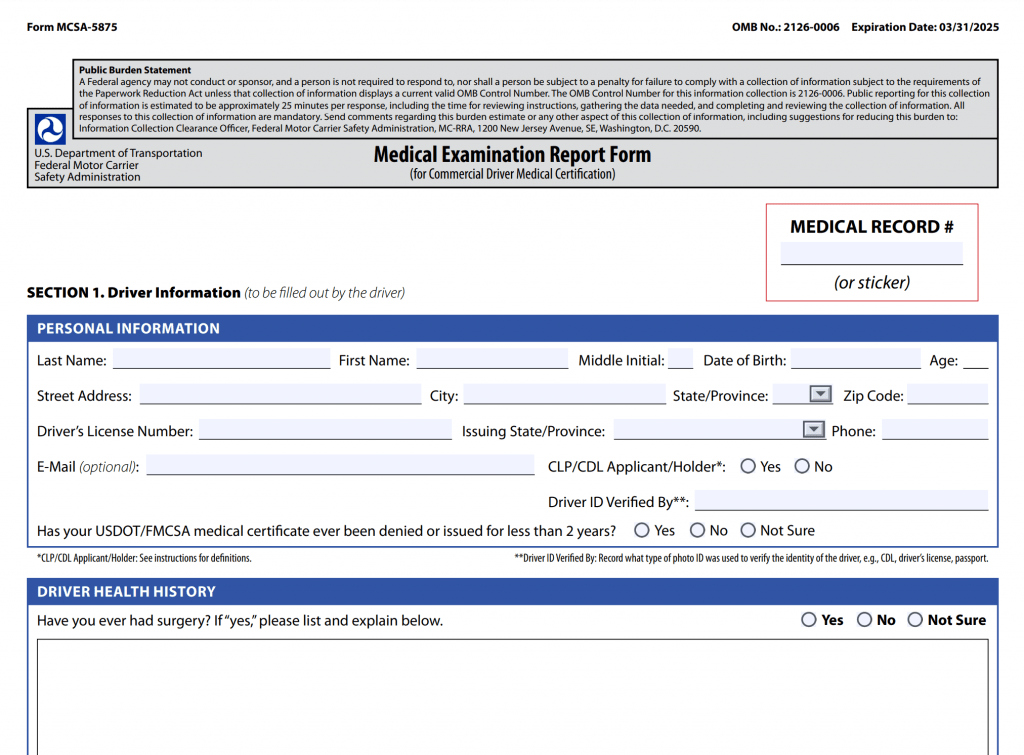 Well organized and detailed instructions via email (do's and don'ts before the exam) and tips to make the process/form filling easier
Cut and fold "DOT cards" with clinic logo and renewal reminders
Ability to fill out patient portion, history and upload supporting documentations (prescriptions/waivers) ahead of appointment. Less waiting at the clinic
Results relayed to employer without delay
Try MedFiller for free! Create your own MedFiller account and do your first patient physical within the next 5 minutes. No tech-skills required to get fully setup! No obligation to pay after trial.
Not ready to start utilizing your free trial? Not a problem! Schedule a no-pressure in-depth technical demo with our 'anti-sales' team to see MedFiller in action in real time