Online Immigration Medical Exam Case Management
If the I-693 has to be signed and sealed, does that mean you still have to do the whole form by hand for every client? Try MedFiller for free to see how it can speed up form processing I-693s over multiple visits. Save time auto-filling vaccination tables based on age and have logic based rule checking on your side. Get error-free ready-to-print form in minutes
Features for Civil Surgeons and I-693 Intake Coordinators
Patients complete their portion, and upload vaccination certificates/history ahead of time. Full support for interpreter/preparer sections so that files are ready to process even before first visit.
Autofill complex and time consuming portions of the I-693  such as the vaccination table based on client age.
Multilingual support and instructions to ensure that you do not have to hand-hold every patient when they do their own portion of the I-693 online. 
Critical warnings and checks ensure that no major issues are missed and no boxes accidentally left unchecked.
Integrate your own notes and everyday checklists ("cheat sheets") for training new staff members. No more switching tabs and googling for procedures and internal notes.

Form processing guidance

 and help for case specific medical concerns. Direct links to USCIS guiding documents and CDC guidelines for easier decision making for unfamiliar medical providers.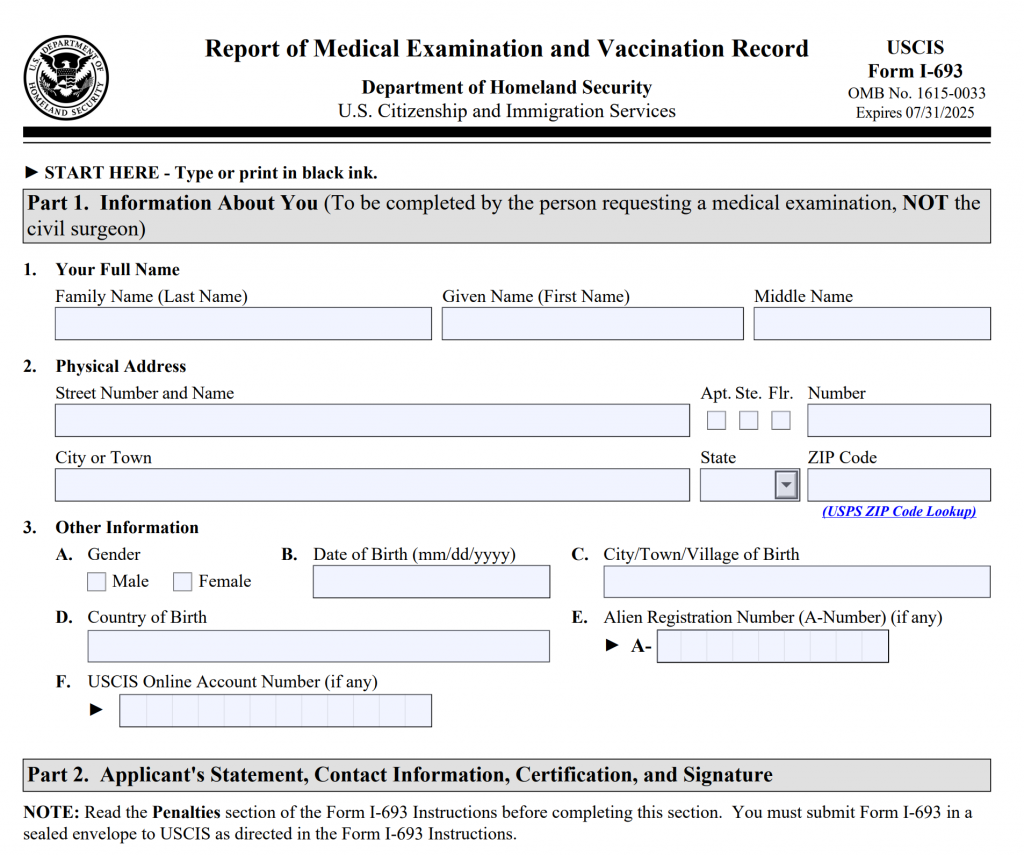 Features for Clinic Operators
Multi-site and 24/7 access. Access the case file at any time from any location connected to the internet

. Print the final ready-to-sign I-693 at any place at any time. Patients can be scheduled at different locations with different civil surgeons all sharing the same files in MedFiller. Easily accommodate multi-clinic, multi-civil surgeon scenarios without worrying about where the patient and paperwork should be
Keep track of case progress during multiple visits. Record vaccinations, x-ray and various results as they arrive. Nothing gets missed between the EMR and the case file
Ultimate low-cost time savings tool. Extremely simple and easy to use. Reduces time spent in training new staff for the I-693 and reduces the time your staff spends in explaining the details of forms to individual clients. Save hundreds of employee hours spent performing repetitive automatable tasks!
A bulletproof and simple way to communicate and upload all supporting documents 
Instructions available in the language of my choice and guidance on how to fill the form  online correctly
Confidence in my civil surgeon's reliance on a professional clinic-branded tool instead of pen and paper for creating error-free forms