Still doing Medical Forms & PDFs the hard way?
Let MedFiller automate your DOT, Immigration, Coast Guard and Occupational Medicine related paperwork. Reduce errors and spend less time filling forms and PDFs.
What is MedFiller?
A physician designed and tested web-based toolkit that effortlessly completes ALL patient related medical forms and paperwork.
MedFiller is designed for medical professionals that regularly process U.S Government forms (DOT, Immigration, CG719K etc.) and Occupational Medicine, Employment, Workers Comp and Insurance related forms. It makes the process of generating the forms which patients, employers and insurers need simpler, faster and less error-prone by integrating medical knowledge and form-specific instructions into one system. MedFiller makes things truly paperless and reduces employee training/turnover cost by providing one platform for ALL patient related forms.
In short MedFiller is a medical form filling suite on steroids (no medical pun intended). 
Here's how it works: MedFiller continuously examines the patient data and medical information being filled out in real time and automatically adjusts, pre-fills and eliminates sections of the forms as necessary based on the medical conditions/history and the instructions associated with the form. Instead of relying on users to know all the form specific instructions MedFiller takes over and does the following:
Guides you step-by-step, while it de-clutters and simplifies the form, so that you are only shown sections that actually apply to the patient
Gives the option to pre-fill the for most common scenarios so you do not re-type the same information for patients every time you start a form
Catches potential errors, such as validity of medical test dates or missing tests required, by the form-specific Federal authority or employer.
Simplifies staff training by providing on page, form-specific checklists and notes, that you can modify for your organization. No more digging through binders full of manuals, test protocols and procedures. All the information is right there in front of you as you fill out the form. Never have to switch to a different window or tab for clarification.
Electronically submits these forms for you where required. DOT physical exam results are electronically submitted to the FMCSA the moment they are finalized. Forms can also be emailed and/or faxed the patient's employer from within the system.
Provides total HIPAA compliant storage and management features for completed forms along with integration with your EMR and appointment booking system
The icing on the top: MedFiller can even send forms electronically to your patients so that they themselves can complete the patient portion, upload any supporting documents (medical history, waivers, prescriptions, consent, electronic signatures etc.), ensuring the paperwork is already setup and fully validated even before they show up for their appointment. Our research indicates that this pre-filling feature vastly increases patient buy-in and reduces no-shows
DOT Physicals Exams with full support for automatic electronic submission to the DOT
USCIS Immigration Physicals (I-693) with full support for preparers and interpreters
FAA BasicMeds (8700-2) including full support for patients to do client portion by themselves on our website
Coast Guard Physicals (CG 179 K and K/E)  with will support for client portion being completed electronically by patients themselves 
MedFiller can also accommodate any arbitrary PDF form that you use internally for your organization. Contact us for a demo today!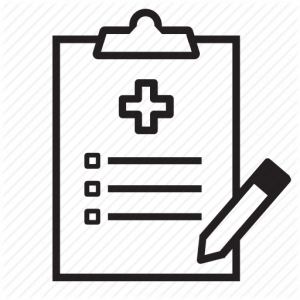 Time Savings & Reduced Training Costs
Medical offices are often leanly staffed and many of them rely on a single person to fill out specific forms. That person has invested a large amount of time learning the ins-and-outs of a particular government form and if they are ever unavailable, the entire process of completing forms for patients can come to a grinding halt. Training new hires for all of these procedures is yet another challenge.
MedFiller fills in that gap by being more than just a form "filler." The guided step-by-step approach to form completion, along with the oversight of the software, allows physicians and medical assistants to be confident that they are completing the form correctly for the first time and every time. 
Simplified, field specific help, explanations and instructions are one-click away at every step without the user being bombarded with a 10 page instruction booklet. For physicians that rarely fill certain forms (e.g., if you only do a few FAA BasicMeds a year),  investing a large amount of time in keeping up-to-date with changes is often not worth the effort. MedFiller is that easy to use tool that you can rely on to ensure forms are done properly the first time and every time. 
Even experts can still benefit from quicker completion times and reduction in errors. Don't believe us? Here are the results of an experiment we did where we asked a seasoned medical assistant to complete an I-693 (Immigration Physical) form with real patient data gathered before starting:
Pen and Paper (2 minor errors)
PDF Editor (1 minor error)
There are so many additional features that we can list from HIPAA compliant storage and management of completed medical forms to integration with most EMR systems to ensure forms can be properly linked with patient histories. That is why we have created video demos, and detailed explanations of the individual features in our system that help you turbo charge the mundane task of form filling. 
Most importantly we let you try our full-featured solution for free with with zero obligation to pay even if you use the forms generated by our system. No credit card or commitment in any way required to get going!